White Rabbit: Why, Mary Ann! What are you doing out here?
Alice: Mary Ann?
White Rabbit: Don't just do something, stand there… Uh… no no! Go go! Go get my gloves! I'm late!
Alice: But late for what? That's just what I…
White Rabbit: My gloves!
[Blows trumpet]
White Rabbit: At once, do you hear!
Alice: Goodness. I suppose I'll be taking orders from Dinah next. – IMDb White Rabbit Quotes
If you didnt know The Old Fair started May 4th with a wide range of wonderful items. Today I am showing you a geoprint dress called Becca in Pure from LX Essentials. The dress comes in several different prints and many other colors. The long wavy hair I also procured from The Old Fair and its called Margeri from Fabia. Margeri comes in Natural and Fantasy Shades. The cute bunny hat is from the ERSCH gacha @ The Gacha Garden. My collar called Hell's Harbinger (White Out+Silver) is from CX @ Dark Style Fair. My super cute shoes are new from MODA. The shoes are in this circumstance what made the outfit. These wonderful heels with the clock in the platform are called Wonderland and you can find them at the On9 event.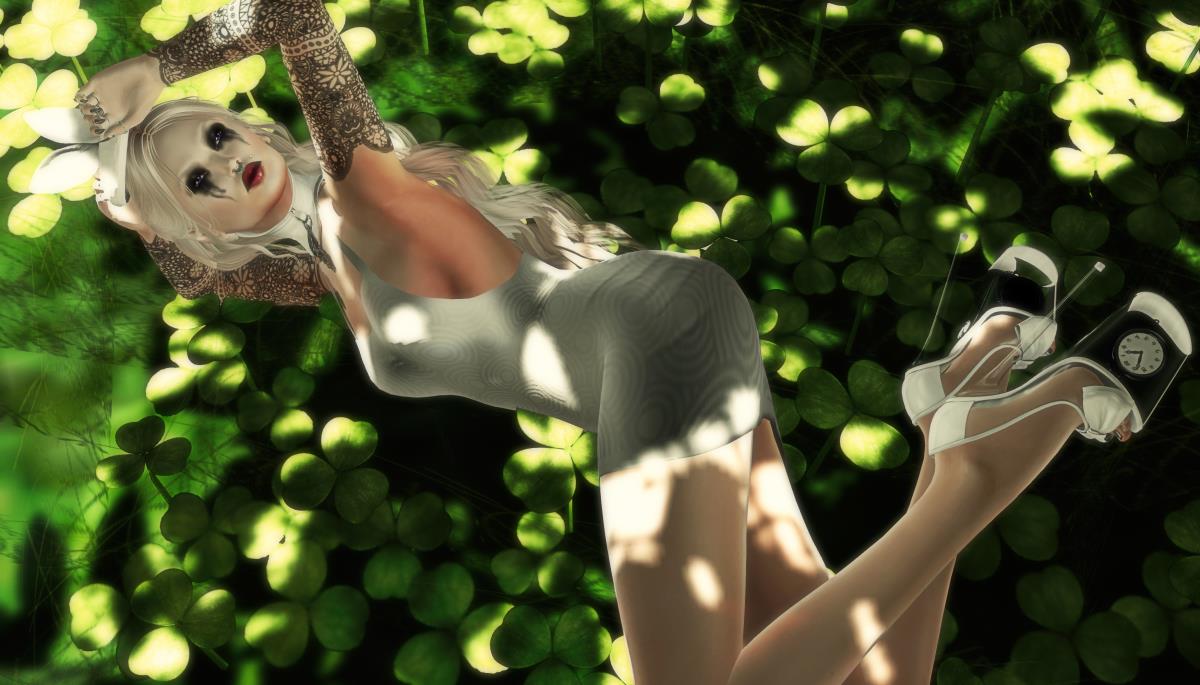 BODY
Maitreya Mesh Body, Bento Hands & Feet – Lara
CATWA  Bento Head  Kimberly
HAIR:
-FABIA- Mesh Hair  <Margeri> Natural Tones @ The Old Fair
SKIN:
[Avenge] Wen skin applier for Catwa – @ Skin Fair March 2017
MAKEUP
[PF] CATWA Cosmetics Applier – Runny Mascara from February Catwa Powder Pack
TATTOO
[White~Widow] Dreamcatcher
EYES:
CATWA Mesh Eyes Pack
OUTFIT
*LX* Becca Maitreya GEO Pure @ The Old Fair
SHOES
[MODA] WONDERLAND PLATFORMS -MAITREYA @ On9
HAT:
ERSCH – Bonita Gacha Bunny Cap 07 (white) @ The Gacha Garden
JEWELRY:
**RE** Dark Queen Septum Ring
Astralia – Bayswater Maitreya Bento Rings – @ The Seasons Story April 2017
PUNCH / Monroe / Diamond
[CX] Hell's Harbinger (White Out+Silver) Maitreya @ The Dark Style Fair
PHOTO PROPS
Frozen—Sensual-Ground-Poses-04
LumiPro on marketplace – 2017 version