On June 3rd Jersey shore opened up .Jersey shore is an event held by Evil Bunny Productions and sponsored by Sponsored By:
Facepalm
EarthWorx
Sevyn East
Myth
slackgirl
LX Essentials (*LX)
Palette
MOoH!
Deluxe Body Factory
AppleTini
Blaxium
IT! (Indulge Temptation!)
Duvet Day
Lush
AdoreZ
Mutiny in Heaven
Image Essentials
Tameless
Midnyte Creations
Pink Ice Boutique
Jersey Shore 2 is is all things blingy, showy, over the top and beachy. The event takes place at a summer boardwalk carnival. Walk the boardwalk and enjoy 10L items as well. Today I am showing you several things from this event.

BODY
Maitreya Mesh Body, Bento Hands & Feet – Lara
LeLutka Bento Head-SIMONE 2.7
^^Swallow^^ Gauged Ear (L) Protruding
HAIR:
!head desk! Moreau all the things @ Jersey Shore 2
SKIN:
*YS&YS* Sey&Mey Skin Applier for Lelutka – PowderPack
MAKEUP
Zibska ~ Janni [no trans]
TATTOO
.Identity. Body Shop – Brutal Combat @ Kinky
EYES:
CATWA Mesh Eyes Pack
OUTFIT
TOP
BLAXIUM – BLX -HoloHO Top- Maitreya @ Jersey Shore 2
PANTS:
[CHUCK SIZE] SOCIAL PANTS DOBBY  EXCLUSIVO JS2 (pants for men)@ Jersey Shore 2
SHOES:
!TLB – Justine Wedges/Maitreya w/ texture change hud @ Jersey Shore 2
JEWELRY
.aisling. Simple Bindi @ WE<3 rp
**RE** Dark Queen Septum Ring
PUNCH / Monroe / Diamond
PHOTO PROPS
LumiPro on marketplace – 2017 version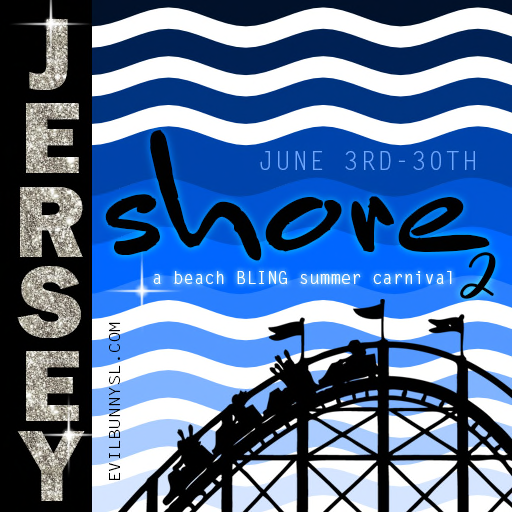 https://www.flickr.com/groups/jerseyshore2/
https://www.facebook.com/evilbunnyproductions
http://www.evilbunnysl.com