Kalopsia – Flying PaperFaMESHed opened up at the start of the month and its  the 5 year anniversary of the monthly event's existence. They have many great designers and gifts out for you. To get the gifts you need to wear the FaMESHed tag and its well worth it. Today Im pictured in this beautiful alley that WetCat and Lemon made that is at FaMESHed. The necklace collar around my neck is from there as well. Maxi Gossamer made the necklace with different colors to choose from.
My makeup is a freebie from Zibksa at her store you need to wear the versus magazine tag to be able to get it. Who doesnt like free makeup? The lipstick and eyeshadow comes with omega appliers for those that can use them. My heels with socks is from MODA and it comes with a color change/metal change hud. These cute socks with heels would be good for any school girl outfit or for one of those times you just want to be girlish and sexy.You can find the heels at the Kinky Event.
My skirt and top is a sexy blue laced number from MoOH! you can find it at the mainstore for 99L which is a  40% discount until May 4.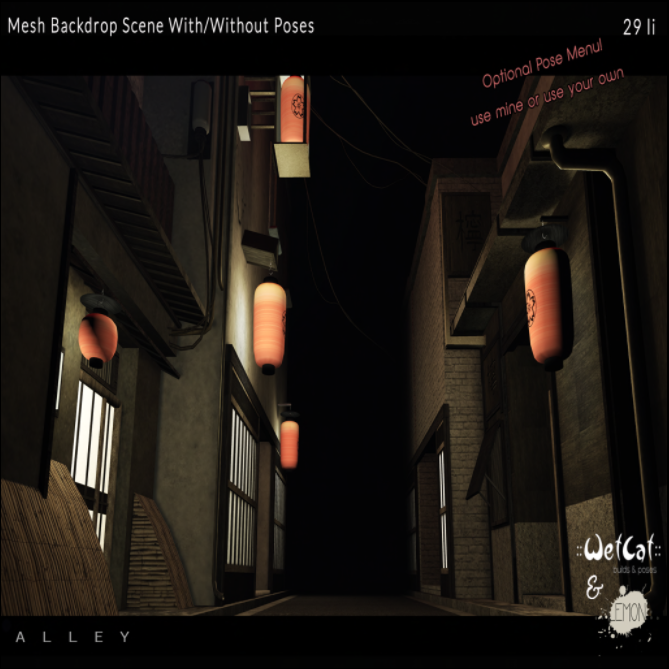 BODY
Maitreya Mesh Body, Bento Hands & Feet – Lara
CATWA  Bento Head  Kimberly
HAIR:
.~Tableau Vivant~ Harukaze (female) – Basics
SKIN:
[Avenge] Wen skin applier for Catwa – @ Skin Fair March 2017
MAKEUP
Zibska   Versus ~ Spring Gift
EYES:
CATWA Mesh Eyes Pack
OUTFIT
MOoH! Willow outfit river @ Mainstore
SHOES:
[MODA] LULU BOW PLATFORMS & HUD @ Kinky Event
JEWELRY:
**RE** Dark Queen Septum Ring
Astralia – Bayswater Maitreya Bento Rings – @ The Seasons Story April 2017
PUNCH / Monroe / Diamond
MG – Necklace – Dominique Leather Collar – Design2 @ FaMESHed
PHOTO PROPS
Kalopsia – Flying Paper
::WetCat::&.:LEMON:. "Alley" Backdrop @ FaMESHed
LumiPro on marketplace – 2017 version